Hours & Admissions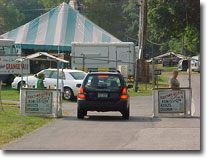 The Yorktown Grange Fair is a not-for-profit, volunteer organization. Your admission fee and other fair revenues are used exclusively to support local charities and service organizations and to fund next year's fair. We appreciate your participation!
Hours
Friday, September 7: 5 p.m. to 11 p.m.
Saturday, September 8: 10 a.m. to 11 p.m.
Sunday, September 9: 10 a.m. to 7 p.m.
Admissions
$5.00 for children under 12, and all students with a valid school ID
$8.00 for adults
$5.00 for Seniors (over 62)
$2.00 for Seniors during the Senior Dinner from 4:00pm - 5:00 pm on Friday
Children under 2 are always admitted free.
For your convenience, there is an ATM located on the fairgrounds.